Paleontologist as rock star: How one tiny fossil sparked a media circus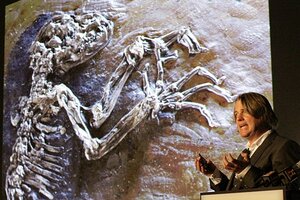 Mike Segar/Reuters
Yesterday, media outlets across the globe pounced on the story of "Ida," a 47-million-year-old fossil discovered in Germany by paleontologist Jorn Hurum. According to Hurum, the fossil could be evidence of a missing-link species – one that connects higher primates with creatures such as lemurs.
A LiveScience report, published on the MSNBC website, heralded the groundbreaking nature of the discovery:
The fossil, called Darwinius masillae and said to be a female, provides the most complete understanding of the paleobiology of any primate so far discovered from the Eocene Epoch, Hurum said. An analysis of the fossil mammal is detailed Tuesday in the journal PLoS ONE. "This is the first link to all humans ... truly a fossil that links world heritage," Hurum said.
Scientist or reality television star?
---