'Bing it?' Microsoft seeks search switchers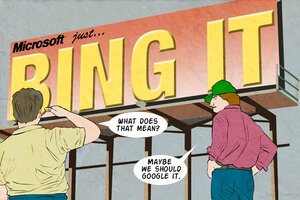 Jake Turcotte
Bada-what?
Gotten over Google? Wary of Wolfram Alpha? Powerset give you pause? Microsoft thinks it's time to try Bing.
The folks in Redmond have reportedly put up $80 million for a nationwide advertising campaign touting a revamp of Live Search (and a name change – Bing – get it?), a revision that's supposed to fix everything that's wrong with search today.
But wait, what's wrong with search today? Apparently, lots. From the Advertising Age report:
People with knowledge of the planned push said the ads won't go after Google, or Yahoo for that matter, by name. Instead, they'll focus on planting the idea that today's search engines don't work as well as consumers previously thought by asking them whether search (aka Google) really solves their problems. That, Microsoft is hoping, will give consumers a reason to consider switching search engines, which, of course, is one of Bing's biggest challenges.
The $80-$100 million Redmond has earmarked for the Bing campaign is a lot – even for a nationwide campaign. As AdAge writes, "Google spent about $25 million on all its advertising last year, according to TNS Media Intelligence, with about $11.6 million of that focused on recruiting. Microsoft, by comparison, spent $361 million. Certainly Google has never faced an ad assault of anything like this magnitude."
---