Sony steals a page from the Apple playbook; rolls out pint-sized PSP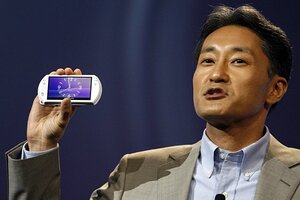 Fred Prouser/Reuters
Today, Sony officially unveiled a new portable gaming system called the PSP Go, which executives said will be available this fall in the US and Japan. The device will be 50 percent smaller and 40 percent lighter than the current PSP 3000, according to Reuters, and feature 16 gigabytes of Flash memory, integrated Bluetooth, and an application allowing users to access the online PlayStation Store.
The price tag is expected to be $249.99.
Importantly, the Go ditches the disc drive that came previous PSP iterations – a move that could usher in a new era of digital distribution for Sony. PSP Go users will have to buy their new titles directly from the PlayStation store, streamlining the buying process and potentially cutting the local video game store out of the equation. The recent game Patapon 2 tested these waters by letting PSP owners download the title directly or buy a box from their local shop that contains a vochure code for the online store.
---