Google launches a new search tool. But will it be too complex for users?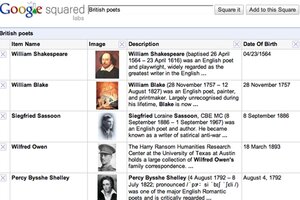 Google
First unveiled in late May, Google today officially – and relatively quietly – launched an experimental search tool called Google Squared. Unlike Google's traditional engine, Google Squared lumps results into cells and tables. For instance, type in "British Poets," and Google Squared spits out a spreadsheet of writerly types, from Shakespeare to Keats, arranged by date of birth, name, and place of birth.
From there, you can click through the websites that provided the results, or customize each cell to relay only the information you're interested in. There's also a social networking component to Google Squared: users can share their squares with their friends, and with their friends' friends, eventually creating a meta-web of customized information.
As Google notes in a helpful FAQ section on Squared, the program "can learn from edits and corrections you make to your Square to gradually improve its quality for all users. So although your Square most likely won't be perfect from the get-go, it's worth it to take the time to clean and correct it."
Testing phase
---