Microsoft goes after click-fraud clan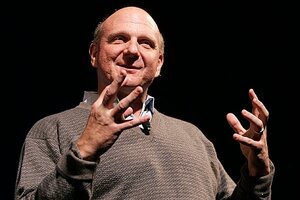 Robert Galbraith/Reuters
"You think this is a game, cat and mouse, back and forth. At some point, once we figure out who you are, we're going to hold you accountable for it, it's going to be expensive..."
That quote could have come from an XBox Live gamer playing Halo 3. (OK, maybe that's a stretch.) But it's what Microsoft associate general counsel Tim Cranton told the New York Times in reference to a civil lawsuit the company filed in Seattle federal court against a family of three Canadians it accuses of engaging in $1.5 million worth of "click fraud."
In a blog post Monday, Cranton laid out his company's case against two Vancouver brothers, their mother, and various corporations believed to have been used to perpetrate the fraud. Microsoft got wind of the scheme when auto insurance companies complained of strange activity on their pay-per-click online ads.
---