Senate showdown: Kerry takes aim at Apple's exclusive deal with AT&T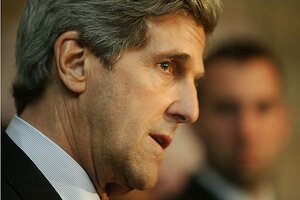 Stephen Shaver/UPI/Newscom
Let's say you're one of millions of Americans with a Verizon contract. Let's say you really want an iPhone. And let's say you don't have hundreds of dollars necessary to break your contract, ditch your BlackBerry, and hop on board with AT&T. Right now, the whole furor over the 3G S is probably pretty frustrating, right?
Well, now you've got someone on your side.
Yesterday, Sen. John Kerry and three others on the Senate Committee on Commerce, Science and Transportation fired off a note to Michael J. Copps, the acting chairman of the Federal Communications Commission, asking Copps to look into exclusive arrangements between mobile phone manufacturers and national carriers.
The letter has drawn a lot of attention, mostly because it seems to be partly targeting one of the longest standing deals around – the one that gives AT&T the sole right to sell service for the iPhone.
The request, which was penned by Kerry and Sens. Roger Wicker (R-Miss.), Byron Dorgan (D-N.D.), and Amy Klobuchar (D-Minn.), precedes a Senate hearing this week on wireless service. Kerry is Chairman of the Commerce Subcommittee on Communications, Technology, and the Internet. The other three authors of the letter are all members of the same subcommittee.
---