Heeding Kerry's call, FCC will investigate exclusive cell phone deals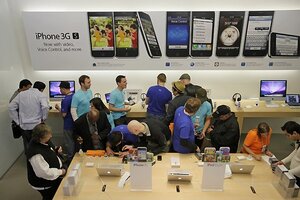 In the same week Apple launched its latest iPhone, the 3G S, the Cupertino, Calif-company discovered it was being targeted by federal regulators.
Yesterday, the Federal Communications Commission announced it would launch a review of cellular phone exclusivity deals – like the lucrative and longstanding arrangement between Apple and AT&T. At a press conference in Washington, the acting chairman of the Federal Communications Commission, Michael Copps, said his staff would begin work immediately.
"In the fast-changing wireless handset market... we must ensure that consumers are able to reap the benefits that a robust and innovative competitive marketplace can bestow," Copps said yesterday, according to the Associated Press.
Spurred on by the Senate
Copps' announcement did not come out of nowhere. Earlier this week, Sen. John Kerry and three others on the Senate Committee on Commerce, Science and Transportation asked that the FCC look into mobile handset deals.
---