The biggest problem facing Bing? Loyalty to Google.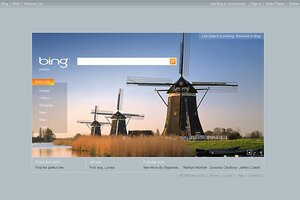 Microsoft/KRT/Newscom
We've written a lot about Bing in recent months, because let's face it – any legitimate challenge to Google is worth watching very closely. But a new focus group study released yesterday by Catalyst Group shows exactly how steep the climb will be for Microsoft's new search tool.
The focus group was comprised of 12 Internet users, all of whom named Google as their search engine of choice. (None of the users had ever tried Bing.) The group was given two tasks: a search for local hotels, and a shopping search for a new digital camera. Each user was asked to try the search on both Google and on Bing. The Catalyst Group then employed eye tracking technology and a general survey to monitor how the group responded to each engine.
Score one for Bing
Interestingly, most of the users preferred the visual design and feel of Bing. One test subject said Bing was "warmer and more inviting." Another opined that "Bing's search refining features were more helpful than Google's." So far, so good – Microsoft has obviously put a lot of thought into the layout of their newest engine, from the glossy opening photos to the structure of the results page.
---