She's got game: Report says more girls are playing video games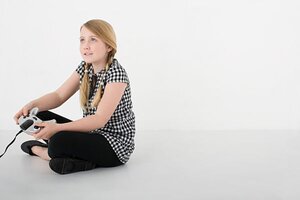 NEWSCOM
Hand over that Nintendo Wii Controller boys, there's a new gamer in town: Girls.
While the video game industry has largely catered to males, a report released Tuesday by The NPD Group says that 28 percent of females are playing video games on gaming consoles. That number is up 5 percent from 23 percent in 2008. The report, "Gamer Segmentation 2009," attributes the rise of girl gamers to the Nintendo Wii, a gaming console that has drawn 19 percent more users since last year, according to the report.
Of the 65 percent of American households who play video games or computer games, according to a 2008 Entertainment Software Association (ESA) study, female gamers make up 40 percent of all players. And not all female gamers are young. The 2008 ESA study reported that 33 percent of women ages 18 and up play video games – surpassing the 18 percent of boys ages 17 and younger who play video games. Last year, Horizons blogger Matthew Shaer wrote an article about how women have been gaining some momentum in the traditionally male-dominated video game industry.
---