Spot graffiti or a pothole? Report it with your iPhone.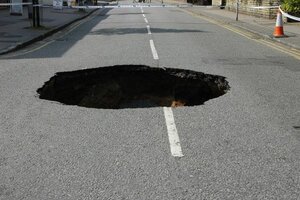 NEWSCOM
It turns out there's an app for just about everything – even municipal complaints.
Soon the City of Boston will adopt the first iPhone app in the nation that will allow residents to voice municipal complaints and concerns via iPhone. Rather than calling a 24-hour hotline, Bostonians will be able to snap photos of potholes or graffiti in their neighborhood and send it directly to Boston's City Hall. The app, Citizen Connect, which was dreamed up by mayoral aid Nigel Jacob, will use the iPhone's global positioning system function (GPS) to identify a citizen's exact location when they submit a complaint. It can be downloaded for free once it's released in the iTunes App Store, and will also provide users with a tracking number so they can keep tabs on their complaint's status.
Across the US, municipalities have begun using new types of technology to facilitate communication between city officials and the public. Police departments have utilized Twitter to announce crime updates, and some fire and police departments are now offering 911 texting in certain areas of the country.
Boston Globe reporter Michael Levenson reports that "the iPhone initiative is part of a push to make City Hall younger, hipper, and generally more user-friendly, a campaign that Menino has intensified during the mayor's race."
---