Citing identity theft violations, NY Attorney General sues social network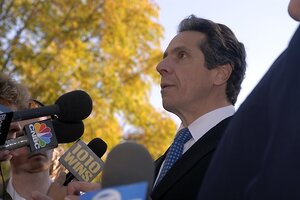 Richard B. Levine/Newscom
This week, New York Attorney General Andrew Cuomo announced he planned to sue Tagged.com, a popular social networking site. The alleged violation: A sweeping plan to artificially inflate the site's traffic by luring millions of new members onto the site.
According to Cuomo, Tagged sent 60 million e-mails to people saying they'd been tagged on the site in a photo. In many cases, no such photos existed, but users were apparently tricked into providing the company with access to their personal email contacts. Cuomo says Tagged then reached out to those contacts, asking if they'd like to join the site.
"This company stole the address books and identities of millions of people," Cuomo said in a statement. "Consumers had their privacy invaded and were forced into the embarrassing position of having to apologize to all their email contacts for Tagged's unethical – and illegal – behavior. This very virulent form of spam is the online equivalent of breaking into a home, stealing address books, and sending phony mail to all of an individual's personal contacts. We would never accept this behavior in the real world, and we cannot accept it online."
Among other violations of state law, Cuomo plans to sue Tagged for identity theft and invasion of privacy.
Tagged fires back
In a post on Tagged.com's blog, co-founder Greg Tseng said he was "dismayed that Cuomo's office, which has shown itself to be fairly well-versed in the Internet, would issue an inaccurate and inflammatory accusation. We can only believe that they have not carefully reviewed the facts."
---