Is the screen on Amazon's Kindle 2 prone to shattering?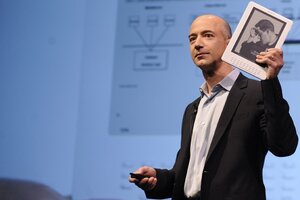 Newscom
Yes, says a Seattle man who purchased a $359 Kindle 2 for his wife's birthday – only to watch as the gadget's screen slowly fractured.
On Tuesday, Matthew Geise, the executive director of a Seattle property management firm, brought his grievances all the way to a Washington district court, where he is petitioning for a class action law suit against Amazon. If successful, the suit could cost Amazon up to $5 million, Geise estimated.
His complaint is simple: Amazon makes a leather Kindle cover, which can be purchased separately from the Kindle. No problems there – the market for iPhone and BlackBerry covers, for instance, is huge. But Geise says when he attached the cover to his Kindle, it eventually caused irreparable damage to the device.
No help from customer service
Furthermore, Geist alleges, Amazon's customer service said it it was a common problem – and one that wasn't covered by warranty, leaving Geise to pay to have the damage repaired. His suit points to many similar complaints on a Kindle message board, indicating that other users were experiencing similar issues.
"I think it's a much bigger problem, given the number of posts going up every day," Geise's lawyer, Beth Terrell, told The Wall Street Journal. "These are just the tip of the iceberg."
---