Wal-Mart takes the lead in green retailing. (Yes, that Wal-Mart.)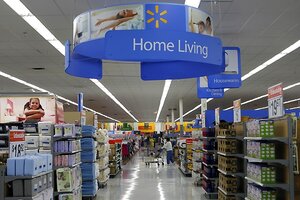 Vernon Bryant/The Dallas Morning News/Newscom
For years, Wal-Mart has been a punching bag for environmental groups, which say that the Arkansas-based company has paid little attention to its sprawling carbon footprint. Now the nation's largest retailer is fighting back – with a plan to display eco-ratings alongside its products.
On Thursday, Wal-Mart chairman and CEO Mike Duke said the company was developing an electronic indexing system, which would help customers choose products that are healthy for the planet. The software, he said, could in the future become the basis for an international eco-rating system.
"We see this as a universal — this is not a U.S. standard," Mr. Duke told reporters at a gathering at company headquarters in Bentonville, Ark., according to the Associated Press. "Across the world, this standard would work across all retailers, all suppliers."
Customers would not see the ratings in store aisles for a few years, a Wal-Mart researcher said.
How it would work
---