Feds withheld data on risks of using a cellphone behind the wheel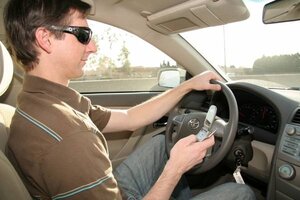 NEWSCOM
Even more evidence that driving while using a cellphone could be a serious safety hazard came to the forefront Tuesday.
Since 2003, the federal National Highway Transportation and Safety Administration (NHTSA) has withheld publishing studies and research depicting the risks of drivers using cellphones behind the wheel. On Tuesday, those reports were made public for the first time by two consumer advocacy groups, The Center for Auto Safety and Public Citizen, who obtained the unreleased documents after filing a Freedom of Information Act lawsuit in 2008. The New York Times has published these documents online.
The papers, which were concealed from the public, detail numerous studies conducted by the highway safety agency to determine the risks of using a cellphone while driving. The papers also include draft cellphone policy proposals.
One of the documents, a draft cellphone policy by the NHTSA recommends that drivers "do not use these devices [cellphones] when driving, except in an emergency. Moreover, we are convinced that legislation forbidding the use of hand-held cellphones while driving may not be effective in improving highway safety since it will not address the problem. In fact, such legislation may erroneously imply that hands-free phones are safe to use while driving."
---