Inside the news: The F-22 Raptor warplane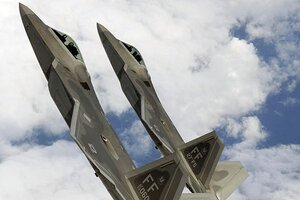 Lockheed Martin
In a major victory for the White House, the Senate today voted 58-40 to strike down $1.75 billion of funding for seven new F-22 Raptor warplanes. The jet had been a point of controversy for years – George W. Bush opposed continuing its production, as did Barack Obama, who was backed by a cadre of Republican lawmakers, including his opponent in the 2008 presidential race, Sen. John McCain.
But debate was kept alive by several members of congress, who worried about job losses in their home districts if the planes, which are built by Lockheed Martin Aeronautics, were cut from the budget. (Lockheed Martin Aeronautics has plants in California, Texas, and Georgia.) The Pentagon already has 183 F-22 planes in its arsenal.
The new amendment, sponsored by McCain and Carl Levin, a Democrat from Michigan, will shift the $1.75 billion allotted to those seven planes to other parts of the Pentagon's budget.
"I'm grateful that the Senate just voted against an additional $1.75 billion to buy F-22 fighter jets that military experts and members of both parties say we do not need," Obama said after the vote, according to several news agencies.
---