Ben Silverman leaves NBC for 'multi-platform' production company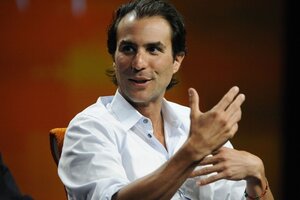 Phil McCarten/Reuters
Say so long to the boy wonder.
Two years after he was promoted to co-chairman of NBC Entertainment and Universal Media Studios, relative youngster Ben Silverman is departing to take a job with the Internet company IAC. Silverman, who formerly headed up an independent firm called Reveille, was recruited in 2007 to help rejuvenate the NBC line-up, which was then slumping in the ratings.
He oversaw a handful of hits, including "The Office," but NBC remained stuck in last place during Silverman's reign, prompting rumors that he was pushed out of a job. At IAC, Silverman will help develop content for TV, mobile devices, and the Web, Reuters reports. In an interview with The New York Times, Silverman said NBC supported his move to IAC.
"I am invested in what happens in the fall, and they are invested in my helping with the transition," he said.
---