Remembering Merce Cunningham, technology pioneer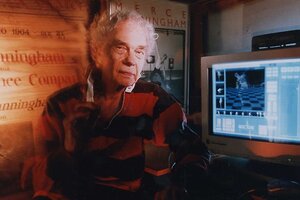 Courtesy of Edward Santalone
Merce Cunningham, a master choreographer and dancer who performed well into his 80s, died on Sunday, according to a notice posted on the website of the Merce Cunningham Dance Company. He was 90. Cunningham is best known as a tireless innovator – his work has been brought to life by most of the world's major dance troupes, from the Ballet of the Paris Opéra to the New York City Ballet.
"You have to love dancing to stick to it," Cunningham once said. "It gives you nothing back, no manuscripts to store away, no paintings to show on walls and maybe hang in museums, no poems to be printed and sold, nothing but that single fleeting moment when you feel alive." Born in Washington in 1919, Cunningham made his name in the 1940s as a soloist with Martha Graham's dance company.
But more recently, Cunningham had cultivated a reputation as one of the first choreographers to take advantage of the digital revolution. He created the computer choreography program DanceForms, and he experimented regularly with motion capture technology. In 1998, SIGGRAPH, the annual technology conference, commissioned a three-screen animation project called "Hand-drawn Spaces." And this year, he launched the webcast Mondays with Merce, which allowed users to learn from Cunningham's technique via video feed.
---