Could a text message be used to take over your iPhone?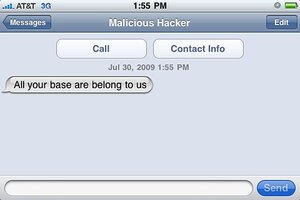 iPhone screengrab by Andrew Heining
News this week of the "hack of all hacks" for the iPhone had some Apple fans quaking in their New Balances: two security researchers released word that a text message containing a single character could be sent to an iPhone, giving an attacker complete access to the device and its contents.
The attack is set to be demonstrated in a Thursday talk at the Black Hat computer security conference in Las Vegas by Zane Lackey and Luis Mira. Computerworld's Robert McMillan has the details:
The researchers were able to send SMS messages from one phone to another that contained configuration information that would normally originate only on the network's servers, according to a source familiar with the talk, who spoke on condition of anonymity because he was not authorized to speak on the matter. The research details security flaws in the way some mobile networks communicate with the devices on the network.
---