Boston partners with Google Transit. Why the hold-up in DC?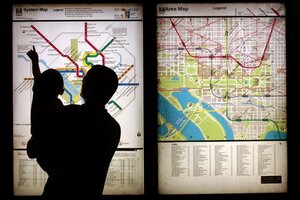 Andy Nelson/The Christian Science Monitor
Good news for Bostonians: Massachusetts is finally joining the Google grid.
At a press conference on Thursday, MBTA officials announced a partnership with Google Transit, the mapping site that provides information on public transportation in hundreds of American cities. In major hubs such as New York, the site has been extraordinary popular, and for good reason – it helps users cut down on travel time, avoid delays, and sift through the clutter of the most complicated subway systems.
"This really makes a lot of information more accessible," Google Boston engineering director Steve Vinter said Thursday, according to the Boston Globe. "There are a lot of people like me who take the T to work but do not know much about the transit system outside of that." Google Transit will now provide data on boats, trains, and buses in Boston, as well as a complete look at the commuter rails which run out to other major towns and cities in Massachusetts.
---