Bogus ATMs discovered at Vegas hacker conference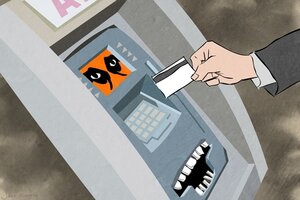 Jake Turcotte/The Christian Science Monitor
Back in April we told you about a global ATM skimming ring that was traced back to Romania. This week another ATM scam popped up in Las Vegas – at the DEFCON security conference, no less.
The no-armed bandit showed up in one of the cleverest, or most unlikely, spots in the Riviera Hotel Casino, depending on how you look at it. Why the dichotomy? It was positioned in a rare location not watched by a security camera. The flipside? It was right outside the casino's security office.
Aries Security CEO Brian Markus spotted the machine and pointed it out to hotel security, according to Wired.
Markus said it was clear to him the ATM was fake when he looked at the smoked glass on the front of the machine and noticed something funny about it. When he beamed a flashlight through the glass, instead of seeing a camera behind it, he saw the PC that was set up to siphon card data.
Las Vegas may not be the area with the highest concentration of ATMs – that designation goes to Harvard Square in Cambridge, Mass., which has over 50 in just a two-block vicinity – but the machines are certainly ubiquitous in a town known for a need for quick cash.
---