Nikon pocket cam packs a projector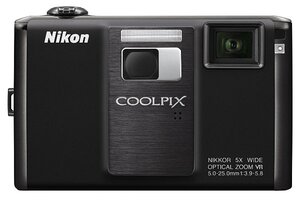 Nikon USA
Why wait 'til you get home to show that slideshow of boring enthralling vacation photos? That seems to be the thought behind Nikon's latest pocketable digital camera, the S1000pj.
Still, as annoying as it might be to seatmates subjected to "what I did on my summer vacation" on a stowed tray-table at 35,000 feet, the S1000pj offers a first-of-its kind pairing. It takes a pocket projector like those reviewed late last year by the New York Times' David Pogue and stuffs it, a speaker, and a decent-enough  camera into a package a little bigger than a deck of cards.
The $400 point-and-shoot comes with a respectable bevy of features along with its proprietary projector: a 12.1-megapixel sensor (though don't get caught up in the megapixel trap), 5x optical zoom, 2.7-inch LCD, and a wireless remote to lose.
---