Who needs bank branches? Deposit checks via iPhone.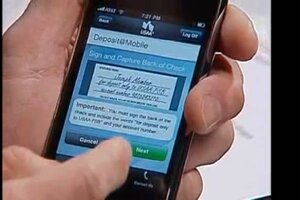 Screen grab
Bank of America may have been on the cutting edge of mobile banking via the iPhone, but now the United Services Automobile Association (USAA), a privately held bank and insurance company, is launching an iPhone app that will let customers deposit their checks electronically.
Starting this week, customers of the small bank, which is based in San Antonio, Texas, and largely caters to military personnel, will be able to make a deposit by simply taking photos of both sides of a check and sending it to the bank using their iPhone. The New York Times reports that customers who opt to deposit their checks via iPhone don't have to send the check to the bank because it will be handled electronically. Instead, they are encouraged to rip up or void the check or file it for their records.
USAA's iPhone deposit feature is the latest in the mobile banking frontier. There's no need to stand in line at the bank or drive up to an ATM. And despite the fact that the bank ranks below the top 20 banks in the US, it's the first to provide the service.
Though customers were already able to deposit checks using a scanner for the past three years, according to The New York Times, mobile banking is an emerging technology – and one that could potentially save time and money.
---