GM says Chevy Volt could top 230 miles-per-gallon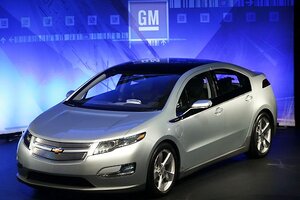 Rebecca Cook/Reuters
Update: On Twitter, Nissan laughs off the Chevy threat.
Back in 2006, the X-Prize Foundation offered a bundle of cash to any group that could build a 250 miles-per-gallon, non-polluting car. It was a monumental challenge, and one that even three years ago, seemed out of reach. Welcome to 2009, the year of the battery- and gas-powered Chevrolet Volt.
Today, GM officially unveiled the Volt, which reps said can travel up to 40 miles on a single battery charge. The car, pictured above – and in the video below – will likely start production later this year. According to GM, the Volt will get city fuel economy of at least 230 miles-per-gallon, and come packaged with a flex fuel-powered engine-generator. The range of the Volt will be 300 miles, GM said.
"From the data we've seen, many Chevy Volt drivers may be able to be in pure electric mode on a daily basis without having to use any gas," GM Chief Executive Officer Fritz Henderson said in a statement. "EPA labels are a yardstick for customers to compare the fuel efficiency of vehicles. So a vehicle like the Volt that achieves a composite triple-digit fuel economy is a game-changer."
---