When is a Nokia Booklet not a netbook? When it costs $810.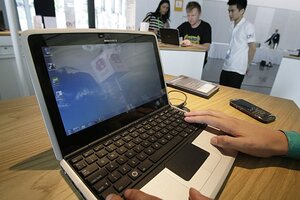 Newscom
The details are in for the hotly anticipated first netbook from mobile phone giant Nokia, the Booklet 3G.
But is it a netbook? Does it matter?
The 10.1-inch ultraportable raised eyebrows last week when it was unveiled, and has gained fans in the gadget press after a more thorough introduction at this week's Nokia World conference in Stuttgart, Germany. Most notable on the list of features is the Booklet's removable 16-cell lithium-ion battery, which Nokia claims will power the 1.6 ghz Intel Atom processor for 12 hours between charges. (Engadget is among the many who are suspicious of this claim.)
Also on tap for Booklet buyers is a full-fledged copy of Windows 7, built-in GPS, a 120 GB hard drive, and a hot-swappable SIM card slot – all decidedly un-netbook.
---