Cell phone radiation? There's a case for that.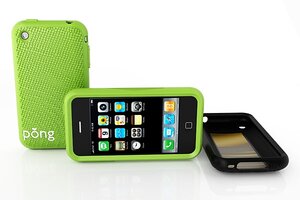 Courtesy of Pong Research LLC
Throw away your tinfoil hat.
Remember last week, when the Environmental Working Group released findings from a study of cell phone radiation? The Apple iPhone measured safely inside the acceptable range of emissions, posting a reading of 0.52 to 1.19 watts per kilogram, the amount of radio frequency energy that the body absorbs. But that hasn't stopped an Idaho company from releasing a protective case they claim reduces the phone's specific absorption rate by 60 percent.
CrunchGear has the details on the $60 case:
The Pong iPhone case is the first product proven by FCC-certified laboratories to reduce cell phone radiation. The case reduces the specific absorption rate (SAR, a mobile industry standard of measurement) by 60% and reduces intense 'hotspot' cell phone radiation (Electric Field Intensity) by 85%. The Pong iPhone case is immediately available for the iPhone 3G and iPhone 3GS, retailing for $59.95 through www.pongresearch.com. A BlackBerry model will be available later this year, with models for other devices to follow.
---