HG Wells: The UFO Google logo mystery is solved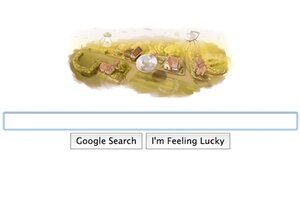 Google screen grab
Who is H.G. Wells? That's what many Googlers are asking after an elaborate three weeks of mysterious logos on the Google homepage. But the company lifted the veil early this morning, explaining the series of UFO-inspired doodles.
First came the Sept. 5 image of a UFO abducting the second O in Google's name. The odd picture came with the cryptic Twitter tweet: 1.12.12 25.15.21.18 15 1.18.5 2.5.12.15.14.7 20.15 21.19. Each number stood for a corresponding letter (1 is A, 2 is B, etc.) All together the coded message comes out as "All your O are belong to us," which Google acknowledged this morning was a reference to the infamously poor translation, "All your base are belong to us," from the Japanese video game Zero Wing.
Last weekend brought the second UFO sighting on Google's homepage. This time inspired by crop circles, the Google doodle showed a flying saucer sculpting the company's name into an illustrated corn field. As we wrote last Monday, "to add to the mystery, Google posted the coordinates "51.327629, -0.5616088" in a cryptic Twitter tweet. Curious searchers identified the spot as Horsell, England. Sci-Fi aficionados may recognize the name. In 'War of the Worlds,' HG Wells wrote that Horsell residents witnessed the first UFO landing."
---