Microsoft tempting away Apple's retail help?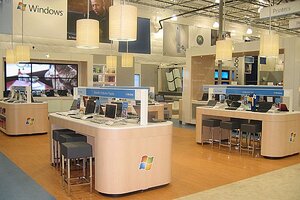 Newscom
Genius, guru, same difference, right?
Word spread quickly this morning after The Loop's Jim Dalrymple reported that Microsoft had begun offering some Apple store employees sweet deals to jump ship and come work in their new retail outlets, citing anonymous sources.
The offers allegedly are coming to store managers, who, after signing on with Redmond, are contacting top Apple salespeople and offering them similar deals.
Microsoft's coming retail stores are slated to pop up in close proximity to existing Apple stores, as was reported in July.
Citing past Microsoft retail experiments, PC World's David Coursey offers a word of caution to Apple's would-be switchers (no, not that kind).
My advice to anyone at an Apple Store who finds Microsoft Money (the real thing, not the dead app) dangled in his or her face: Beware! Microsoft has bailed on a retail concept before. It happened in San Francisco, and while I feel Microsoft is committed this time, failure is quite possible. Though it could be years in the making.
---