Fisker Automotive lands $529 million White House loan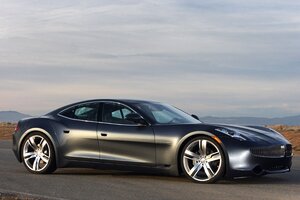 PRNewsFoto/Fisker Automotive
Fisker Automotive, a private company based in Irvine, Calif., has received a $529 million loan from a Department of Energy program designed to fund the development of alternative vehicles.
Energy Secretary Steven Chu told the Los Angeles Times that the low-interest loan, which was announced on Tuesday, "is another critical step in making sure we are positioned to compete for the clean-energy jobs of the future."
In a statement, Fisker said it would use the bulk of the money to fund the design, engineering and assembly of a next-generation plug-in hybrid cars. The cars will retail at $39,900, after tax credits, according to a Fisker statement:
By 2012 Fisker Automotive is expected to launch a family oriented, user friendly plug-in hybrid featuring cutting edge technology, radical styling and world-class quality. Global sales are predicted to exceed 100,000 units annually. A significant percentage will be exported, helping to balance the US trade deficit.
The rest of the loan will reportedly go towards a line of more affordable vehicles.
---