A Microsoft cafe in Paris? Oui!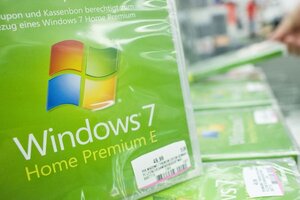 Newscom
Soon you will be able to sip a latte or an espresso at Microsoft's first cafe. The software company is set to open the "Windows Cafe" in Paris on October 22, the same day Windows 7 hits stores.
Though construction on the cafe is still in process (here are some photos), Wi-Fi is already available to people strolling on the sidewalks. In addition to serving up fancy drinks (no word on whether we'll be sipping Bing lattes, Bill Gates mochas, or Xbox smoothies just yet), the cafe will be a place where visitors can test out new products, including Windows 7, Xbox, and mobile devices.
"This initiative expresses our intention to meet with the general public and show the new Windows experiences on PC, mobile and on the internet," a Microsoft representative told CNET News. "People will be able to discover Windows 7, the Windows phones and the Windows Live services."
Visitors, however, will not be able to purchase any Microsoft products here – only drinks and snacks will be sold. It's also worth mentioning that the Windows Cafe is not a permanent fixture on Paris' 47 Boulevard Sebastopol – it will only be open for a few weeks this fall.
The opening of a Parisian technology cafe is just another step in Microsoft's attempt at an image makeover. This fall, Microsoft will open two retail stores and more are expected to open across the country next year within close proximity to Apple Stores.
---