iPhone MMS arrives, months late – now everyone send pictures!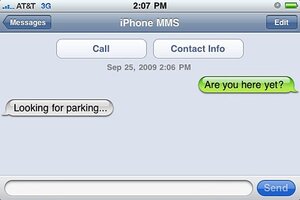 iPhone screengrab
iPhone users, party like it's 2002!
That's the year Wikipedia tells us that Multimedia Message Service first launched (in Norway, in fact), and today, one of the world's most popular smart phones finally decided to show up to the party.
IPhone users and tech watchers will recall that though the iPhone is late to the MMS game in general, US iPhone users are later still. In June, Apple announced availability of MMS on the iPhone, and other countries quickly saw the feature activated, but US lagged in the text-only SMS doldrums for the summer.
AT&T told its Facebook fans that they could expect to see a "carrier settings update" file in iTunes by "late morning, Pacific time," and as of this writing, many are reporting that it's beginning to show up.
Some are reporting that, besides connecting the iPhone to a computer running the latest version of iTunes, downloading the file, and installing it, it's necessary to shut down and restart the iPhone for the update to take effect.
---