Surf's up: Google Wave arrives for chosen few
(Read article summary)
Google is making some waves with the beta launch of its latest communication tool.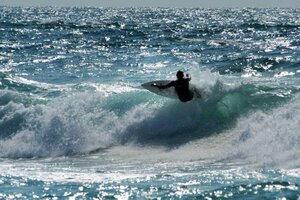 NEWSCOM
For a few fortunate beta testers, Google Wave has finally arrived. Google's new communication and collaboration tool, which they say is their attempt at "what email would look like if it were designed today," integrates aspects of e-mail, social networking, instant messaging, and real-time editing. Today, it's being offered to 100,000 beta testers by invite only.
So who received these invitations?
Google says they were sent to developers "who have been active in the developer preview" since June, users who signed up early and gave feedback about the project, and some Google Apps customers. Those who received invitations will also able to nominate up to five friends to use the system.
Google, which unveiled Wave in May, says it "isn't quite ready for primetime." The collaboration tool lets users create "waves" where they can invite others to share photos, text, gadgets, and links. (A video explaining Google Wave's features is here.)
---