Windows 7 parade dampened by new Apple ads
(Read article summary)
Apple releases a triple-shot of "Get a Mac" ads to strike back against the new Windows 7.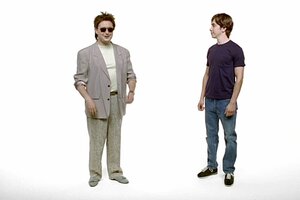 Apple screenshot
That didn't take long.
October 22  was supposed to be Microsoft's day to shine. It opened its first brick-and-mortar store (in Scottsdale, Ariz.). It launched a new online store, selling computers for the first time. Oh yeah, and it released this new computer software or something – you might have heard about it.
But never one to let Windows have the spotlight to itself, Apple chose Thursday to release a trio of new "Get a Mac" ads, featuring Justin Long and John Hodgman as "Mac" and "PC."
The new entrants to the line – it began way back in 2006 and is now up to 40 spots – feature the familiarly stodgy Hodgman and hipster-smug Long touting Apple's top-ranked customer satisfaction ratings, and taking digs (with their signature comic timing) at Windows 7.
---