Modern Warfare 2 airport terror attack stirs controversy
(Read article summary)
Leaked footage of Modern Warfare 2 has caused an uproar, and prompted a response from the game's publisher.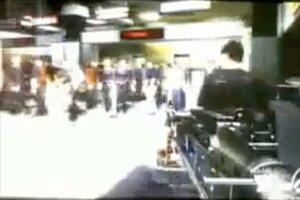 Screengrab
More like Media Warfare 2?
For the second time in a month, Modern Warfare 2, a video game set to be released Nov. 10, is in the headlines for its disturbing imagery.
The counterterrorism simulation first raised eyebrows when an ad for it that ran during Monday Night Football showed Washington D.C. in flames after a terrorist attack.
Now new leaked footage of the game is giving more people pause. Publisher Activision said the video was "taken from a copy of game that was obtained illegally and is not representative of the overall gameplay experience."
Disturbing imagery
The clip posted online Wednesday shows the player assuming the role of a terrorist carrying out a calculated attack at an airport. The player joins a team of four terrorists who use automatic weapons and explosives on civilians waiting at a security checkpoint before shooting their way through a terminal.
Activision, in response to concerns that arose from such graphic imagery, issued the following statement:
Infinity Ward's Modern Warfare 2 features a deep and gripping storyline in which players face off against a terrorist threat dedicated to bringing the world to the brink of collapse. The game includes a plot involving a mission carried out by a Russian villain who wants to trigger a global war. In order to defeat him, the player infiltrates his inner circle. The scene is designed to evoke the atrocities of terrorism.
---