Google Halloween versus Bing Halloween. Who wins?
(Read article summary)
Google Halloween or Bing Halloween? The future of civilization may rest on it.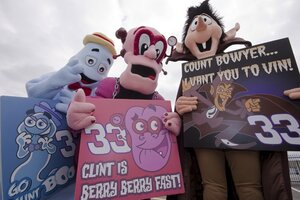 NEWSCOM
A Google Halloween or a Bing Halloween? That's the question.
No, it's probably not
the
most important showdown in the history of civilization. But it probably ranks up there with the very important debate over what breakfast cereal is better:
Count Chocula
or
Frankenberry
.
Google and Bing are in a battle for Halloween supremacy today as both search engines tweaked their respective home pages to commemorate the holiday.
Google changes their logo all the time to recognize holidays, birthdays, and weird stuff. So, it's not a surprise that they've done it today.
Bing offers a new image every day. So, the Halloween photo today? Expected.
In terms of search volume, of course, there's no competition. Google clobbers all comers -- although Bing is trying mightily to take a bite of that pie.
Creativity wins
But in terms of commemorating a holiday, it's a more even playing field. It's a creativity contest.
Google goes for the more traditional approach by replacing their logo with pieces of Halloween candy. Pieces, you say? Do you only see one offering of candy? Well, click the logo again. And again. They present four different home page displays.
---