Google logo celebrates Halloween 2009 with trick or treat doodle
(Read article summary)
The Google logo has changed to recognize Halloween 2009. Trick or Treat!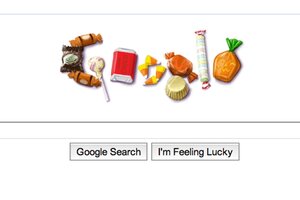 Google screengrab
Trick or treat! Or is it "click or treat?"
Come on, it's Halloween 2009. You know the Google logo is going to recognize the holiday. And sure enough, the Google folks are celebrating Halloween by not only changing their logo (or doodle) but putting up many images to acknowledge All Hallows Eve.
They could have played it many different ways. Perhaps a salute to that terrible Halloween song "Monster Mash." Or maybe in light of the new mega-movie "Paranormal Activity" they could have made the logo more horrifying.
But instead it's a straight up nod to the tradition of trick or treating. And they went for the "treat" angle rather than the "trick." Think candy instead of toilet paper on someone's house.
Go to Google to check it out. In case you don't know the URL, just Google Google.
Keep on clickin'
The logo is fairly simple. A ghostly white "G-o-o-g-l" followed by a piece of orange candy with a jack-o-lantern impression. Click it again. Now each letter of the Google logo is displayed with a piece of candy -- including our favorite "Smarties."
---