Goodbye, Honda Odyssey. Hello, Honda SkyDeck concept.
(Read article summary)
Forget that aging Previa parked in the garage. The Honda Skydeck concept car promises to make the minivan cool again.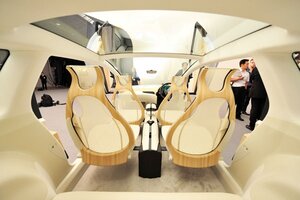 Honda/Newscom
Don't get us wrong – in no way are we saying that you should ditch your sports car and invest in something more spacious. But hey, you could do worse than saving your pennies for the Honda SkyDeck, the six-seat hybrid minivan unveiled at last month's Tokyo Motor Show.
The SkyDeck – shown at right and up top and in the video below – is widely seen as a potential successor to the Odyssey, Honda's current mini-van. How far off is the SkyDeck? Who knows. For now, it's just a concept car – a glimmer in the eye of a few top Honda designers.
Writing on Autoblog, Sam Abuelsamid warns auto aficionados not to get their hopes up:
Unlike the CR-Z which is nothing more than a thinly veiled preview of an upcoming production model, the Honda Skydeck remains a pure design study at this point. While most automakers would provide a full list of specifications for a concept that is nothing more than a fiberglass buck, Honda isn't bothering with even that. The only thing the automaker says about this Tokyo Motor Show star is that it's a theoretical hybrid.
---