Modern Warfare 2: Will it make sales history?
(Read article summary)
Call of Duty: Modern Warfare 2 could demolish video-game and box-office records when it launches Tuesday.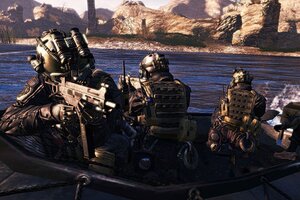 It is just a matter of hours before the highly anticipated and controversial "Call of Duty: Modern Warfare 2" officially hits store shelves. (We say "officially" because some stores are already selling this highly coveted video game. More on that in a bit.)
How big is this release? Let's count the ways.
• The antiterrorism-themed game will likely be the most successful video game of the year, at least among devoted gamers. "New Super Mario Bros. Wii" may pull in more sales this holiday season, thanks to children and their nostalgic parents. But among many hardcore and even mild video-game fans, the Mature-rated Modern Warfare 2 is a must-buy title.
• Analysts expect the game's publisher, Activision, to pull in "at least half a billion dollars on the game in the first week," reports the AP. "It could easily rake in more than last year's record $155 million opening weekend for 'The Dark Knight,' " the highest-grossing opening weekend in box-office history.
That comparison may not be entirely fair. The game costs at least $60, whereas the rising prices of movie tickets aren't quiet there yet. So, "The Dark Knight" needed to pull in about six-times more fans to earn each million-dollar benchmark.
---