Modern Warfare 2 grosses $550 million in first five days
(Read article summary)
Activision has sold an estimated 8 million copies of Call of Duty: Modern Warfare 2, according to a new report.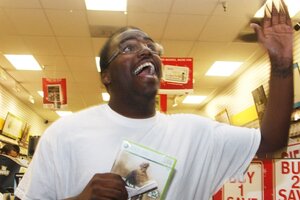 George Nikitin/AP
Last week, Activision announced that Call of Duty: Modern Warfare 2 had broken the record for most successful entertainment launch of all time.
The numbers were monumental: 4.7 million copies sold in the first 24 hours alone, and an earning report that topped $310 million. And that was only counting the Modern Warfare 2 blitz in North America and the UK.
So what about worldwide sales? Today, we have the answer. According to Activision, Modern Warfare 2 grossed $550 million since last week's launch – another entertainment industry record. The Los Angeles Times, citing a source at Activision, reports that 8 million copies of the game have been sold; analysts expect that at least another 10 million games will be eventually be unloaded.
---