Google Chrome OS: Why should people switch?
(Read article summary)
Google Chrome OS has buzz now, but a number of stars will have to align for many folks to migrate to it.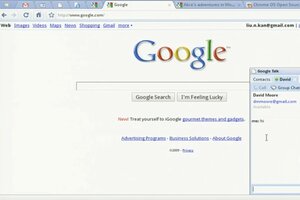 Google Chrome OS screenshot
Will you be using Chrome OS a year from now?
At the Web-based operating system's coming-out party at Google headquarters on Thursday, Google presented its vision of Chrome, and a huge amount of information on what the browser and operating system are based on, how they run, and the safeguards in place to ensure they run well. But missing in all of that, at least to this observer, was a clear exposition of how Google plans to get users onboard – in essence, the hook.
Now, to be fair, we're a year off – Google vice president of product management Sundar Pichai stressed as much before launching into the thinking behind Chrome. But after all was said about Chrome (and boy, there was a lot said in the hour and 20 minute-long presentation) we're left with one big question: Why?
The answer to the first why – "Why is Google pushing this and investing so much?" – is pretty simple: Advertising. A super-fast, Web-geared operating system is the smoothest road online to Google ads.
But the other why – "Why should I use it?" – is a bit harder to pin down. If there were some killer something, we could see it. A really sleek device like the mythic Apple tablet – or better yet, a free one – would do the trick. But Google's revelation, that Chrome will run on just a select list of netbooks to start, and that it would be aimed primarily at the secondary PC market, has us scratching our heads. People upgrade from, say, a Ford Escort to a Mustang for the horsepower, from a Corolla to a Prius for the gas mileage. What's going to make folks ditch Windows or Mac OS X for Chrome? It can't just be Chrome's touted speed, can it?
---