'JooJoo' razzed at $499 as CrunchPad litigation proceeds
(Read article summary)
The JooJoo packs a 12-inch touch screen, Wi-Fi, and a slim OS that is said to boot to a Web browser in 9 seconds.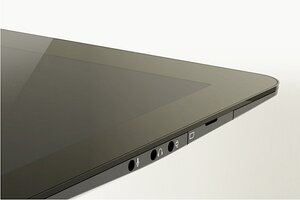 thejoojoo.com screengrab
Talk about a chewy reception.
The tablet PC formerly known as CrunchPad saw its first webcast Monday. This much-hyped and assumed-DOA device reemerged today under the name "JooJoo" and in the hands of its new masters, FusionGarage, which forged ahead after its partnership with TechCrunch dissolved.
The vitals: It'll cost $499 for the 2.4 pound tablet with a 12.1 inch capacitive touch screen. Communication is Wi-Fi-only, and there's 4 GB of onboard flash storage, but FusionGarage CEO Chandra Rathakrishnan, who presented the webcast, said that most of the storage would be in the cloud. Like Google Chrome OS, the interface is a browser, with applications run on the Web, instead of on the device. Pre-orders will kick off on Friday.
Contradicting former partner Michael Arrington's assertions that the CrunchPad-turned-JooJoo was the TechCrunch editor's idea, Rathakrishnan began the webcast by downplaying Arrington's role in the project, emphasizing that TechCrunch repeatedly failed to deliver. Arrington last week came forward with a story of the CrunchPad's demise, fraught with greed and betrayal.
Many tech notables wasted no time dissing JooJoo, calling it too expensive and questioning the sluggishness and strange coloring of the onscreen demo.
---