Facebook privacy: Friend lists not public, after all
(Read article summary)
An uproar over whether users could hide who they are friends with caused Facebook to make changes to its recently revamped privacy policy.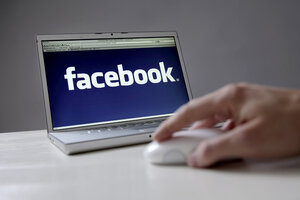 Newscom
Perhaps the major point of contention from the Facebook privacy changes rolled out this week has been resolved.
Facebook product marketing manager Ana Muller, in an update to an update about the privacy policy revision, writes that in response to feedback, Facebook has removed the "View Friends" link from search results. In addition, when users complete the privacy transition we told you about on Wednesday, Muller points out that they can then select to hide their friend list from their profile.
If this all seems a little too, oh, inside-Facebook, it's because, well, it is. But there's a very vocal minority of Facebook users who take their presence and experience on the site very seriously. This time they got results, but they usually just get over it.
Remember in October when Facebook tweaked its news feed, dividing it into the Live Feed and News Feed sections? Users complained in droves, starting groups protesting the changes, and begged for the site to revert to its old ways.
---