Google borrows from Apple with Jan. 5 Android event
(Read article summary)
By scheduling a press gathering the same day as the start of CES, Google is setting the Nexus One up for the same kind of coup that Apple scored with the iPhone in 2007.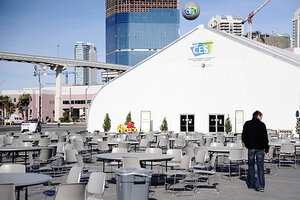 Newscom
All's fair in tech and gadgets.
The Consumer Electronics Show, held in Las Vegas in January, is arguably the most important tech conference of the year, with all the major manufacturers providing the tech press with a look at what they're releasing in the year to come.
In 2007, Apple thumbed its nose at CES, having Steve Jobs give a keynote announcing the iPhone at the Macworld conference in San Francisco. CES that year may have been cool (Who can forget seeing ASIMO run?) but every product announced seemed to carry with it an asterisk:
* This is not the iPhone, and it's not as cool.
Word this morning of an "Android event" at Google headquarters in Mountain View, Calif., on the same day that press previews begin at CES 2010 in Las Vegas, has many thinking back to 2007.
---