CES preview: What to watch at this year's gadget show
(Read article summary)
CES buzz suggests it'll be a big year for e-readers, 3-D TVs, and tablet computers. But which predictions hold water?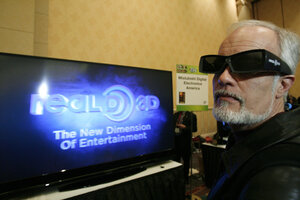 Mario Anzuoni/Reuters
The International Consumer Electronics Show in Las Vegas, the biggest tech convention of the year, feels a bit like the World's Fairs did many decades ago. Part spectacle, part innovation benchmark, CES welcomes the wizards of the modern age to unveil their latest gizmos and inspire awe, glee, and a healthy dose of covetousness.
In the days before the show, tech analysts earn their keep by predicting how "this will be the year of the [fill in the blank]." With CES kicking off Thursday, many see the 2010 tech horizon dominated by 3-D TVs, e-book readers, and tablet computers.
These forecasts always feel accurate within the walls of the convention center. But all too often, what happens in Vegas stays in Vegas. Trends that seemed sure-fire fizzle before the new year.
For example, CNET's gadget of CES 2009 was the Palm Pre. The slim, snazzy smart phone surprised and ensorcelled reporters. Some called it an "iPhone killer." Popular consensus considered it Palm's savior. Now, many wonder if the company will make it to 2011. The Pre and its little sister, the Palm Pixi, have gained barely any traction while the iPhone and Android close in on BlackBerry.
---