Google Nexus One review roundup
(Read article summary)
Nexus One, the first true "Google phone," meets a warm reception. But should iPhone and Droid worry? Here's what the reviews say.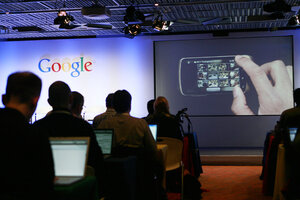 Robert Galbraith/UPI/Pool
The idea of a "Google phone" percolated even before Android emerged in 2007. Back then, many wondered if Google would dive into the smart-phone market. As we now know, the search-engine giant waded in – releasing an operating system for others to play with – but didn't go too deep. Yesterday, Google prepared to cannonball.
The Nexus One not only runs Android, but is the first "Google phone" to grow up and remain in-house. While built by HTC, the Nexus One is available through google.com/phone, may be purchased without a carrier, reflects the company's design aesthetic, and sports the newest version of Android. The phone marks a surprising step for Google, even if reviewers aren't blown away by the device itself. Most agree the new phone is great, but so are many of its rivals. Here's what the early reviews say about the Nexus One.
The shape:
---