Will Doomsday Clock tick forward or backward? Find out live.
(Read article summary)
With the Doomsday Clock resetting Thursday, many see reasons for hope. Plus, here's how to watch the announcement live on the Web.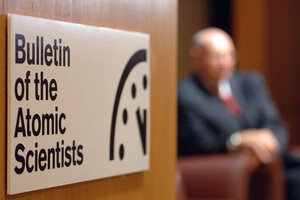 Roger L. Wollenberg/UPI/File
The infamous Doomsday Clock will reset Thursday, the first time its hands have moved since 2007. Whether the Clock will tick closer or further from midnight, suggesting the world is either more or less safe from nuclear weapons and other potential man-made disasters, will be revealed at 10 a.m. EST tomorrow at the New York Academy of Sciences Building in New York City.
For the first time, the announcement will also be broadcast live over the Internet. Viewers can tune in at turnbacktheclock.org.
The Bulletin of Atomic Sciences, which curates the Doomsday Clock, has nudged the minute hand closer to midnight during each of the last four readjustments. But many see signs of hope in today's global politics and believe the Clock will wind back this year.
"We look at general scientific trends, gather experts in the fields of nuclear weapons, energy, climate change and life sciences, and we talk about the clock," Bulletin publisher Kennette Benedict told Politico. The group meets twice a year for these discussions, "and then when events warrant, we decide to move the handle."
---