Apple tablet rumors get interesting with scavenger hunt, lawyering
(Read article summary)
Gawker on Wednesday offered a $100,000 bounty to anyone who could provide access to an Apple tablet before its release. Today, they got a cease and desist letter from Apple's legal team.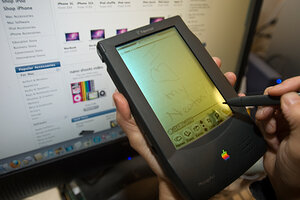 Richard B. Levine/Newscom
As Apple product speculation tends to, tablet rumors have become a sort of sport.
Last year, gossip began to surface that Apple would be rolling out a larger-format portable device without a keyboard – dubbed at times the iTablet, Apple Tablet, and any of a handful of other monikers.
Revelations of various levels of credibility have leaked out along the way, from "confirmed" Taiwan parts orders and San Francisco venue reservations to media exec slip-ups, cryptic URL registrations, and obscure Apple ad filming reports. Our take on the likelihood of an Apple Tablet being released later this month is here, but a little back-and-forth between Apple and the folks over at Gawker has thrown fresh gasoline on the debate.
---