Google Voice, iPhone finally get along – but without Apple's blessings
(Read article summary)
Google Voice: iPhone version cuts out App Store in favor of an Web-browser approach.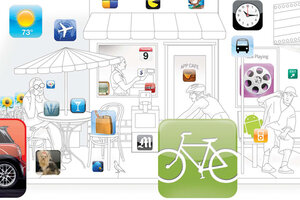 San Jose Mercury News/Newscom
Ever-clever Google just sailed around the Apple blockade.
Today, the company released a version of its Google Voice app designed for iPhone – but without Apple's blessings. This new program circumvents the popular App Store altogether and instead works through the smart phone's Web browser.
Last July, Apple and AT&T shoved Google Voice out of its App Store. The program would have allowed iPhone owners to dial people, send texts, receive calls, and listen to voicemail through a unified Google Voice phone number – one that connects their home phone, office line, computers, and probably a toaster if they tried hard enough. One phone number to rule them all.
Apple and AT&T rejected the iPhone version (though no one is sure which company blackballed the app), saying it was superfluous. It duplicated features the iPhone already offers, they argued. Google Voice fans disagreed and threw a fit online.
---