Apple iPad first impressions arrive
(Read article summary)
Tech journalism heavy hitters got their hands on the iPad Wednesday, and here's what a few of them had to say about it.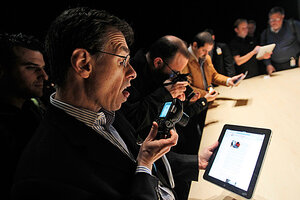 Marcio Jose Sanchez/AP
The iPad is here.
Those of us who read yesterday's liveblogs and struggled to make out Steve Jobs' words through choppy, pirated audio streams may think we know what it's all about. But we weren't there. As Jobs himself effused from the stage, "Watching it is nothing like getting it in your hands. When you feel all this power and this much fun and the Internet in your hands, you'll never want to go back."
But mere mortals will have to wait 60 days before the iPad arrives in stores – how will we know?
The anointed assembled tech press were invited into a hands-on area after the iPad's unveiling, and we've collected some of their observations below:
"You know how everyone who has ever done Who Wants To Be A Millionaire? always says, 'It's not the same when you're actually here. So different from when you're sitting at home watching.'? You know how often you've heard that? Well, you'll hear the same from anyone who's handled an iPad," gushed Stephen Fry on his blog.
---