Will the Apple iPad have Flash? Nope, and Adobe is mad.
(Read article summary)
The new iPad might be "the best browsing experience you've ever had." But it still won't load Flash websites.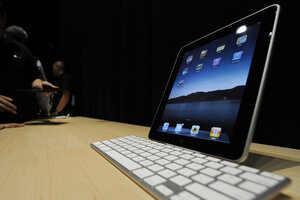 Newscom
In introducing the iPad Wednesday, Apple CEO Steve Jobs had a clear message.
"It's the best browsing experience you've ever had," he said, according to a transcript by GDGT. "You can see the whole [Web] page -- it's phenomenal. It's an incredible experience."
Right after the event, Adobe had a very different message.
"There's something important missing from Apple's approach to connecting consumers to content," the company says on its Flash Platform blog. "And without Flash support, iPad users will not be able to access the full range of web content, including over 70% of games and 75% of video on the web. If I want to use the iPad to connect to Disney, Hulu, Miniclip, Farmville, ESPN, Kongregate, or JibJab -- not to mention the millions of other sites on the web -- I'll be out of luck."
Adobe Flash's software powers many complex, interactive websites – especially pages with video. Nike.com uses Flash to create sweeping graphics. Many online games and ads require it to pull off fluid graphics and controls. The Monitor relies on the software for our video reports, such this clip of MIT students playing with fire to create cheap energy.
---