Cell phone bans do little to reduce crashes, study finds
(Read article summary)
New data from the Highway Loss Data Institute finds that laws requiring hands-free devices for cell phones don't change accident rates.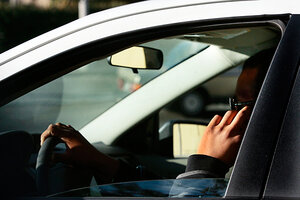 Newscom
You're a safe driver, right? You signal before changing lanes, never (gasp) text-and-drive, and always use a cyborg-chic hands-free device to talk on the phone. A model mobile citizen.
Here's a shocker: That Bluetooth appendage in your ear isn't doing anything to make you safer. This comes from the Highway Loss Data Institute, which studies such things. More precisely, its study found that crash rates in places with bans in place – California, Connecticut, New York, and Washington D.C. – stayed the same when those bans were implemented.
"The laws aren't reducing crashes, even though we know that such laws have reduced hand-held phone use, and several studies have established that phoning while driving increases crash risk," said Insurance Institute for Highway Safety and HLDI president Adrian Lund in a press briefing.
---